We spend about a third of our lives sleeping. That is why it is so important to invest in quality bed linen that is durable, luxurious, and above all, comfortable and linen bedding tick all boxes. Recognised for its invaluable natural qualities, linen stands out in terms of bedding materials. This favoured fabric is long-lasting, lightweight, temperature-regulating, anti-bacterial and timelessly stylish.
With a harmonious balance of aesthetics and practicality, Lithuanian-based Genix Home produces some of the best quality bed linen in the world. Made from OEKO TEX-certified linen, the bedding is perfectly distilled Scandinavian design: streamlined, beautifully crafted and made-to-last. Chic and versatile, the soft sheets add a layer of indulgence.
Linen bedding can make a huge difference to your sleep, so it only makes sense to invest in quality bed linen. A good set should be soft to the touch, be cool and breathable while still being warm and cosy, it should complement without overpowering, and it must be made of an enduring, sustainable material. A tall order.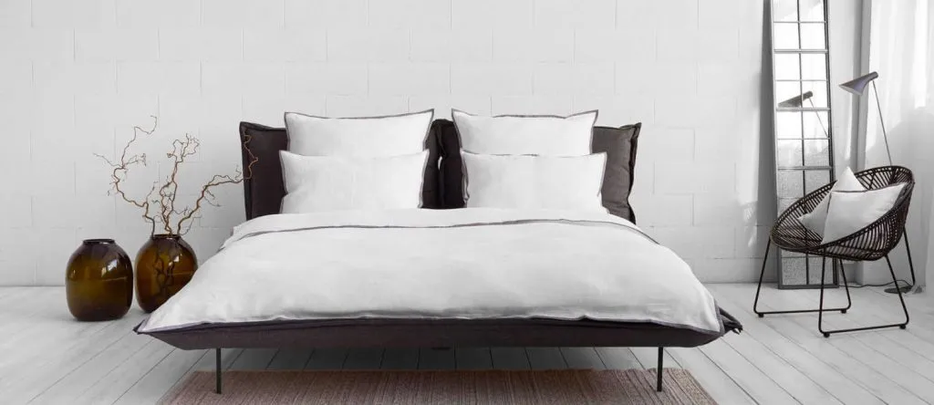 In our search for the perfect bed linen set, many labels have come across our path. Genix Home's stylish design and superior quality make it a luxury bed linen brand to reckon with. The label is workmanship, functionality and timeless aesthetics that come together in every aspect of fabric and design.
Honest and sustainable materials, all crafted, tailored and perfected by artisans and turned into beautiful designs with a subtle Scandinavian feel and simple modernity. Thought-through details and long-lasting quality wrapped in a peaceful universe of soft and understated colours. All designed to create calm, luxurious and elegant spaces.
Custom-made from 100% eco-friendly, OEKO TEX-certified linen, the bed linen has the perfect weight and drape, so it has substance to it without being heavy. Linen is the most wonderful fabric to sleep in: there is a pleasant coolness in summer and cosy warmth in winter, delivering maximum comfort year-round.
Combining understated chicness and a picture-perfect colour range, Genix bed linen adds casual style and effortless elegance to any bedroom.
Why linen bedding is a perfect choice all year round
Nothing compares to the luxury of 100 per cent linen bedding. Thanks to linen's natural beauty, elegance, softness, longevity and many healthy properties, it is little wonder that people who enjoy using linen bedding never find themselves wanting other forms of bedding. There are countless benefits of linen; here are a few reasons we love it: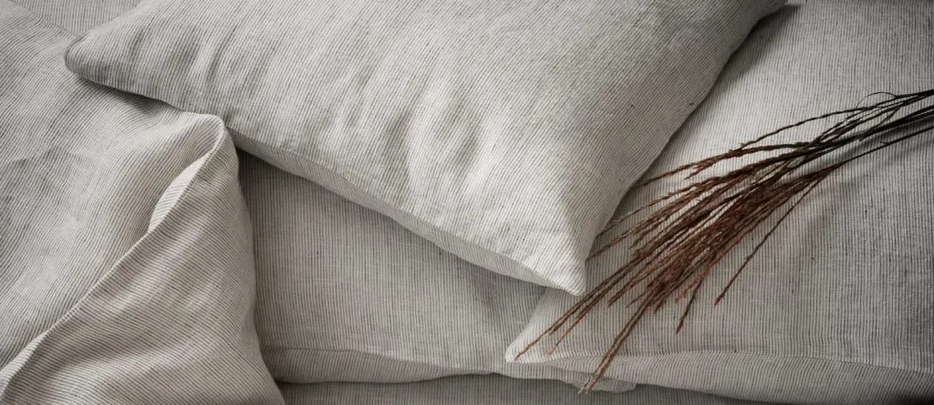 BREATHABLE & THERMOREGULATING: Linen is beneficial for the skin, and its thermoregulatory properties provide insulation in the winter and breathability in the summer. It adjusts to your body's core temperature nicely, making pure linen bedding top-of-the-line in comfort for every season. Linen will make you feel a pleasant coolness in summer and cosy warmth in winter.
HYPOALLERGENIC: Due to the naturally occurring fibres and non-abrasive, supple texture, linen is a great option for those with skin sensitivities, including children. Its loose fibres make it less prone to capturing dust and pollen, helping to alleviate seasonal allergies.
ECO-FRIENDLY & SUSTAINABLE: Linen is woven from the fibres of the flax plant (a renewable source) and is a completely natural product. When compared to cotton and synthetic fabrics, flax uses less water and leaves behind significantly less waste. With its biodegradable and recyclable properties, linen is one of the most earth-friendly crops, and no part of the plant is left behind. Seeds, stems, and flowers are all used to produce food, paper, and other materials.
100 per cent pure linen bedding from Genix Home
Genix Home believes in the power of good sleep. And their secret? Superior, high-quality bed linen made from some of the most eco-friendly fabrics.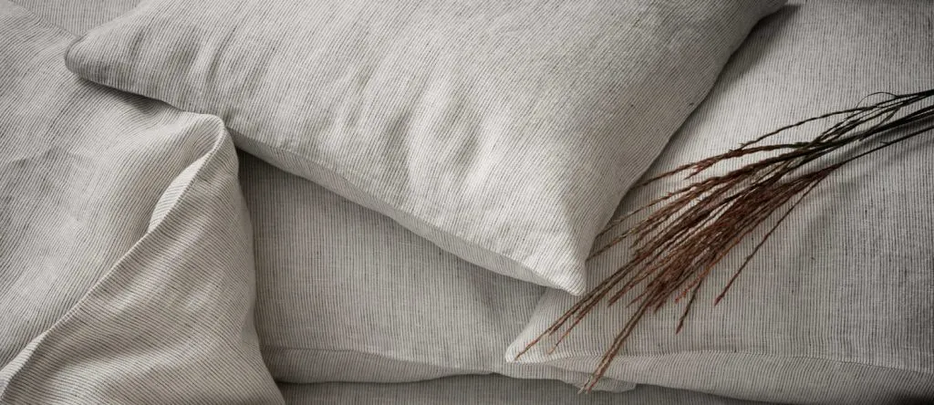 As one of the most treasured and sought-after fabrics throughout time, Genix Home's products are crafted from luxurious and natural linen fabrics. The brand's linen fabrics are 100 per cent natural and are ideal for the bedroom, which centres around peace, relaxation and well-being.
Synonymous with environmentally conscious luxury, the artisanal quality bed linen is made without compromise. The label's linen products are designed and manufactured in Lithuania, where linen manufacturing has long traditions. It is woven in modern factories for maximum quality. Genix Home's premium fabrics are certified by OEKO TEX, a guarantee of quality and safety. OEKO TEX is an organisation that rigorously tests and certifies the safety and purity of textile products, from the start to the end of the production process. Not only do they test for harmful substances, but they also take into consideration the social and environmental conditions in production facilities. That the fabric is OEKO TEX certified ensures that it is risk-free to human health on all levels.
Genix Home's unique sewing technique ensures absolute durability and year-round comfort. The linen bedding boasts a natural elasticity, which means it will keep its shape and style for years to come.
With its many years of linen industry experience and meticulous attention to quality, you cannot go wrong. It is what makes all of Genix Homes' linens the epitome of pure luxury and effortless beauty.
WRITTEN BY THE GENIX HOME
---